Starving in mountains
Episode 6
Tip of the day
Planning the food reserves is one of the most challenging tasks you need to do on SNP. Take special care of Sundays and Public hoiday, when stores have limited opening hours. It is easy to forget date.
"I guess there is an angel up there overlooking our journey. Each time we have a problem, there is someone that's willing to give a helpful hand."
Čičmany is a famous Slovakian folk village. One of the main attractions are old houses painted with special folk patterns that are sold to manufacturers all over the world. I was surprised that there were only a few houses painted with the patterns in the village. Somehow I imagined that the whole village would be clothed in the folklore spirit.
We almost never eat in the morning, when we wake up around 6 AM. The stomach is not prepared to start it's day at the time. Usually, we hike for 1 - 2 hours before breakfast. Even if we could, we did not have any food supplies that day. The night before, we had eaten chips and crisps for dinner because all stores and restaurants had been closed when we arrived. We planned to buy fresh supplies for the day in Zliechov. Before breakfast, we had to conquer the Strážov hill. At the top, we deviated from the path, in order to see a panoramic view of the valley. We had an argument about whether we should waste the time since our morning was lazy and we already had a delay. In the evening, we were supposed to meet my mom in Horná Poruba.
Eventually, we decided to experience the Strážov view and hiked to the top. There we met three men who told us it was a public holiday and shops were probably closed. Not something you want to hear on an empty stomach, when you don't even have a protein bar in your reserve. To our surprise, several minutes later, one of the men came and presented us with bread with meat spread, the second came with sliced vegetables and last gave us some sweets. Unexpected breakfast with a beautiful view and great company made our day. We thanked our saviours and continued to the village.
A kilometer before Zliechov we came upon a water spring. We were without a shower for several days again so I decided I would clean myself. Just before I was ready to take my clothes off (I was already barefoot) we heard a voice and a pair of SNP hikers with a dog appeared in front of us. We knew them! They were another group with the dog and since they were faster than us, we were expecting them to catch up with us any day. Distracted from the activity I was about to do, I took one step back and sudden pain in my foot took hold of me. I screamed and found out that I stepped on a huge old rusty nail in the wood. Thankfully, there was a spring nearby and I immediately fell down on the ground and put my foot into the water. Everything was bloody. I cried and everyone hurried to help me. It was a very funny spectacle. Me lying on the ground, as dirty as I could be, the wet brown clay from the forest didn't help me to become cleaner, our new friends who we barely knew were holding my foot, and Nika was cleaning it with disinfection. After the guys helped me stabilise the foot, we continued the never ending hike to the Zliechov. Each step for me was a struggle but on such a journey, you accept the pain more easily.
In Zliechov, we took a much longer break than we expected, so we decided that our end destination would be the summit of the Vápeč hill. Because of my leg and much needed rest we agreed that my mom will come to Zliechov instead of Horná Poruba, which we were unable to reach after all the incidents from the morning. We exchanged dirty clothes for new ones and got fresh supplies of food also for Aponi. Mom prepared us pancakes for lunch and Nika received the desired melon.
The route to Vápeč was slow. That day Nika was leading and motivating both me and Aponi. We heard that there is a beautiful view from the top of the mountain so we felt motivated to reach it. In the beginning of the climb we met a group of campers. They offered us a shot of 'Slivovica' to fill in the energy. That shot really helped us climb up the hill. We were literally running, our motivation was strong. We reached the top 5 minutes before sunset. We met a group of tourists that planned to spend the night there and they offered us a beer. It was the most fulfilling sunset I ever saw. Exhausted, after my biggest sports performance, with the beer in one hand and tuna salad in the other, I enjoyed and froze in time for those 5 minutes.
Unfortunately, we could not stay at the top during the night. Most of the good spots were taken by local tourists and we had to descend to the valley in the dark. We were accompanied by one of the tourists and his kid. In the end, he showed us a good open space with the roof where we could spend the night. Our tent was wet, so we let it dry and slept on the table in the shelter. It was a very funny and cold night. 🥶✨🌚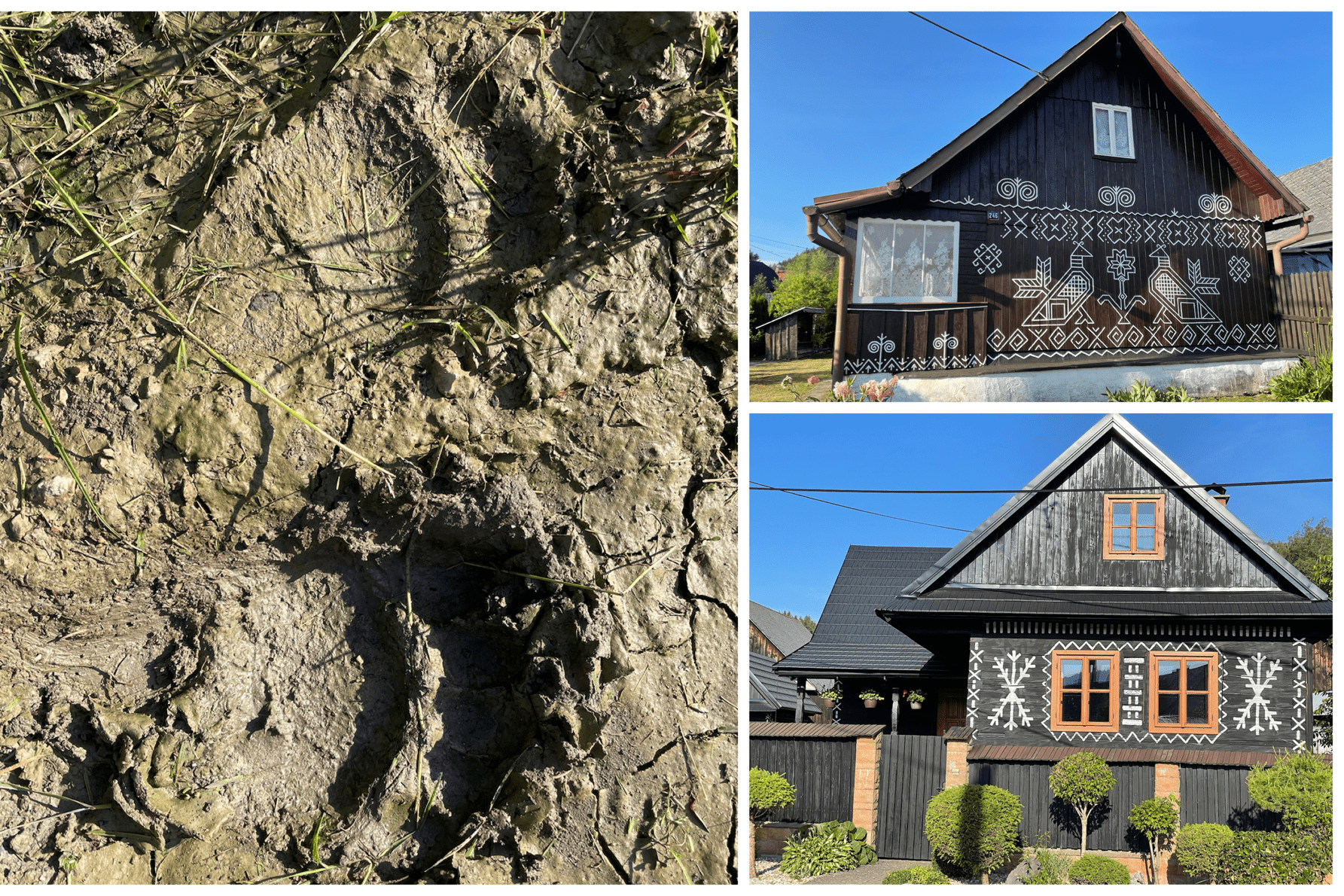 Tip of the day
People are more dangerous than animals, but don't forget to sing when walking forest after dark.
"I love the contrasts of our journey. One hour you are in the dark forest, scared to make another step. The next hour you are in the comfort of someone's home, drinking beer and watching TV. Unplanned and unexpected."
The next day, we agreed to take a rest and hike only 15 kilometers to Trenčianske Teplice. We hoped to reach it before lunch and take the half day off. We tried to find cheap accommodation but we were unsuccessful. The hotels were either full or did not accept dogs. Eventually we had to pay for a more expensive hotel, but the rest was worth it.
The whole time we spent in Trenčianske Teplice we felt like we did not belong there. There were a lot of people and families, all dressed in fashionable clothes, looking fresh. I realized that perfumed people started to stink to me. We felt like aliens visiting earth. Once we arrived at the hotel, we spent several hours cleaning all the dirt and washing the clothes. Afterwards, we hurried to a hotel wellness center. Sauna and pool spoiled us. When we finished, the route from wellness to our hotel room went straight through a restaurant where hotel guests had their dinner at the time. Even though we were clean, we were barefoot and clothed in our dirty sportswear. When we walked around a table with two women that were staring at us, one of them asked her friend if outsiders were allowed inside the hotel. It never ceases to amaze me how quickly people judge others just by their appearance.
Traditionally, we managed to meet several people in the evening that invited us for a drink at a bar, and instead of a good long deserved sleep we rested only several hours before waking up at 6 A.M next morning. We had to start early, because there were lots of asphalt roads waiting for us and that day it was supposed to be hot. We needed to move Aponi to the forest as soon as possible. By the time we reached Trenčín at 10 A.M the sun was already unbearable so we stopped for breakfast in the city center. We chose the coffee place that offered melon juice, but they didn't have any left. 😢
The goal for the lunch was Drietoma motorest. Because of the weather, it took us several hours to move 9 kilometers. After each kilometer we had to stop in the shadows to rest with Aponi. By the time we reached Drietoma the sun was unbearable even more than in Trenčín. The worst part was that it didn't get better until 7 P.M. which was two hours before sunset. We had to spend 5 hours in the motorest because, it was impossible to walk outside. I think that day was the temperature record of our journey. Usually we were able to start around 5 P.M. We decided we will try to walk until the end of the light.
Before the climb to the state borders, we met a guy that recommended us to sleep in a lodge on the top of the mountain. He also invited us to sleep in his house because he was alone. It was a bit strange, so we decided we would rather hike further away. It is not good if random people know your sleeping location. Especially those that you are unsure to trust. In your sleep you are at your weakest.
Once we climbed to the top, the sun was already setting but we still had at least an hour hike through the forest left. Suddenly something huge bombarded half the forest a few meters away from us. It sounded like several trees fell down. The animal was moving fast and we were unable to decide if it was moving away or towards us. I reached for my bear spray and we waited several minutes prepared to react but scared. Fortunately the animal moved away, unfortunately it moved in the direction of our destination. It was hard to decide what to do in such a situation, but we had never moved backwards before, so we waited for several more minutes. We took several deep breaths, calmed ourselves down and moved forward armed with our voices and sounds of folk songs. Similar incidents happened a few times more. The forest was getting darker. We had never been scared like this before on the trip, but there was nowhere to go just to continue forward. 🐻🐺🐗🦉🐰
We reached the meadow under Machnáč after dark. Looking for the spring we found an area with holiday cottages. We noticed a person in front of one of them. We approached him and asked about the sleeping place and the spring. He showed us the spring and told us to sleep up the hill on the meadow. After several minutes he offered us the place behind his house. After another several minutes he invited us to his house for dinner, turned on the futball and brought us a beer. Such an unexpected end of the day. He told us that he went out of the house because he thought that we were his neighbour's cows that sometimes get lost on his land. We thanked our ringing bells for this encounter. We couldn't believe that we would sleep in a secure place that night. We got the best sleep in the tent and we did not wake up until the morning, when our new friend woke us up for a cup of coffee. ☕️🍺🍲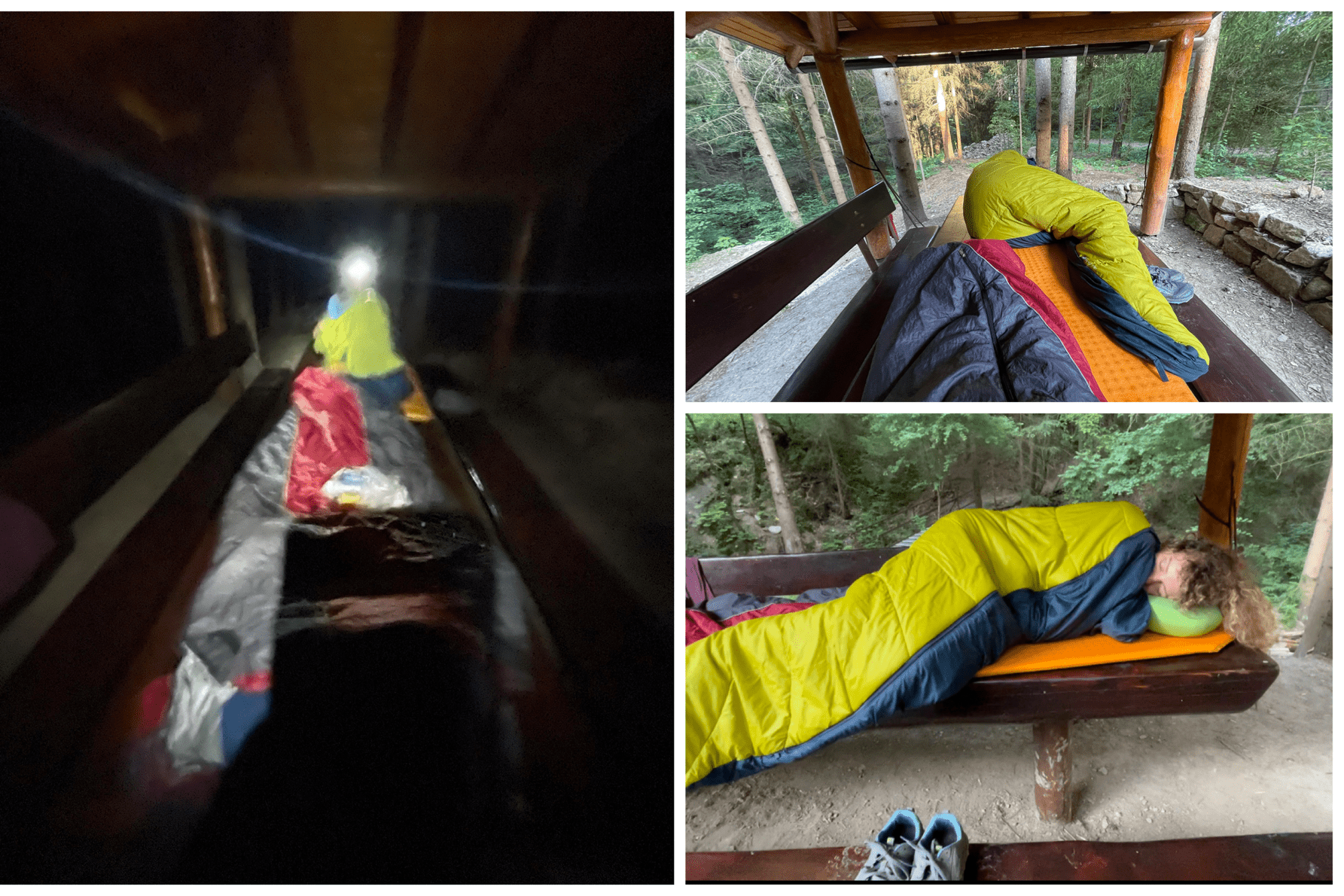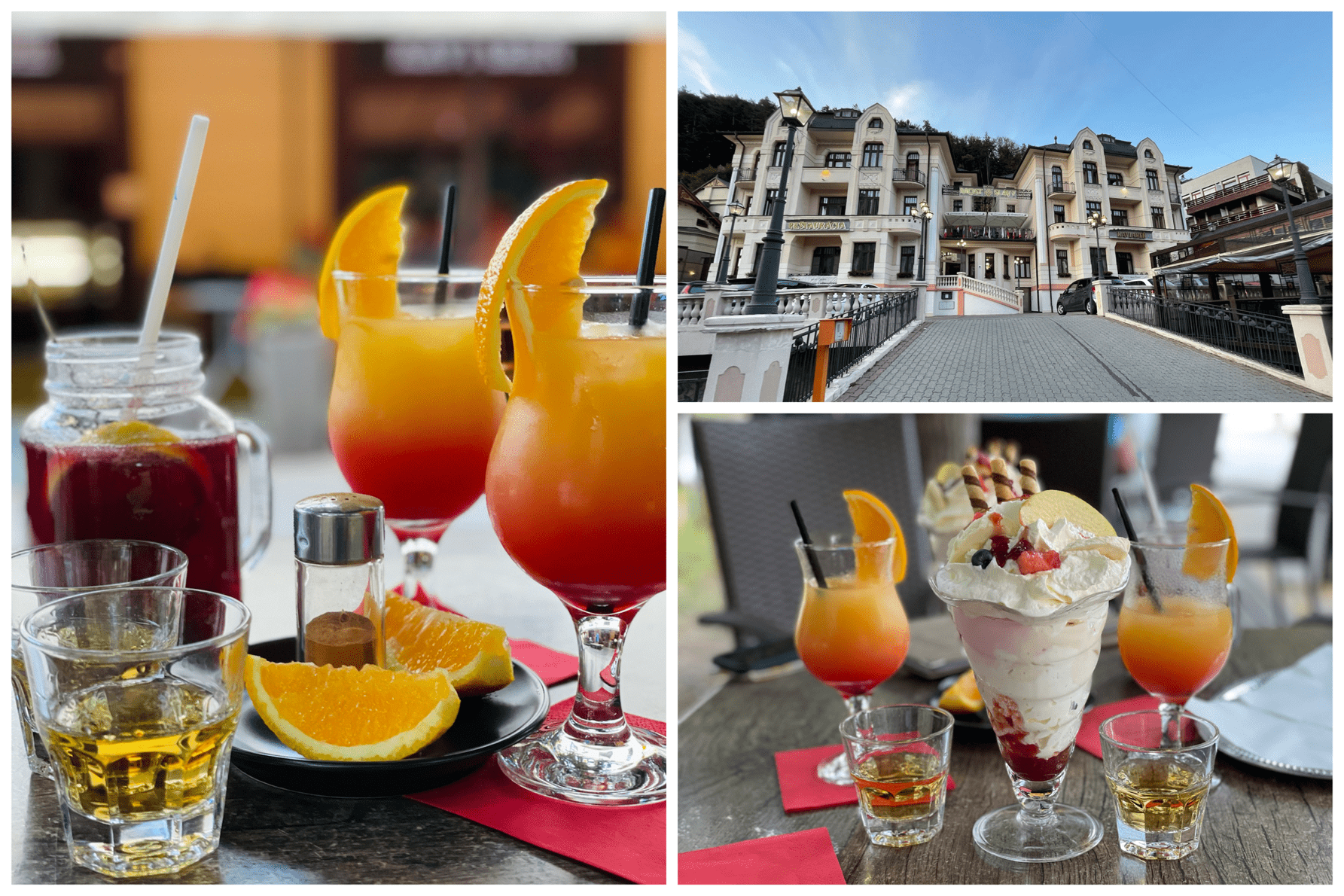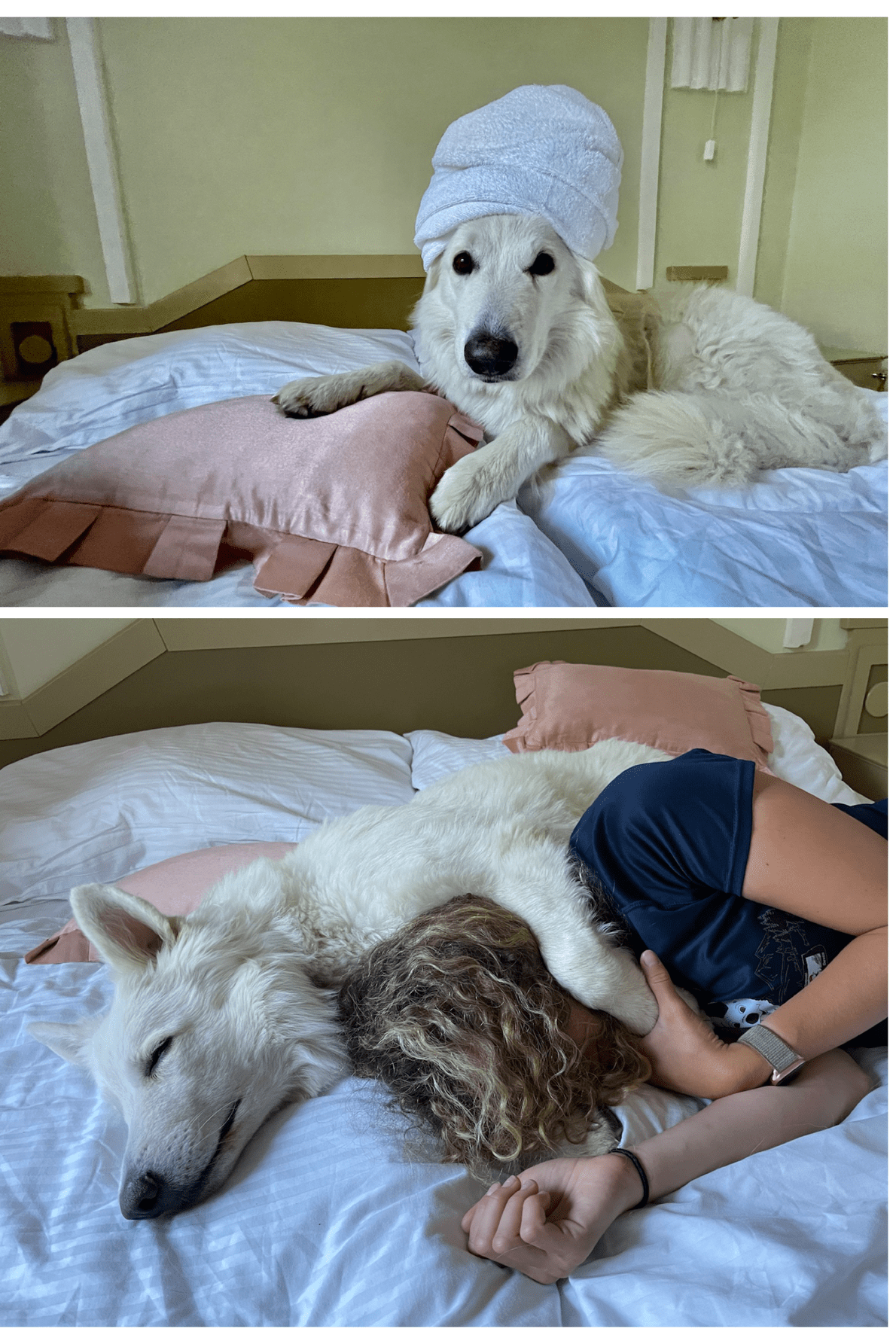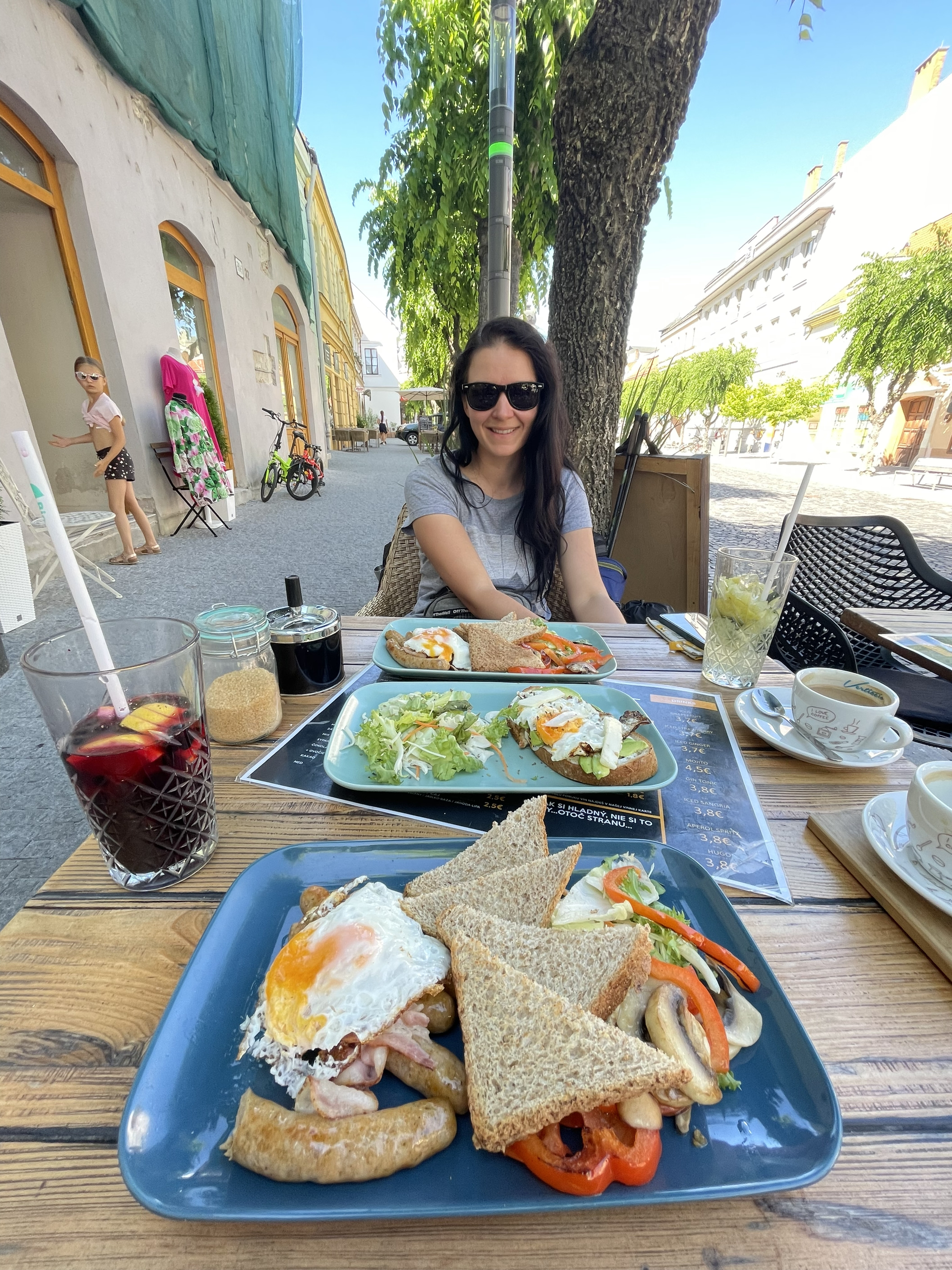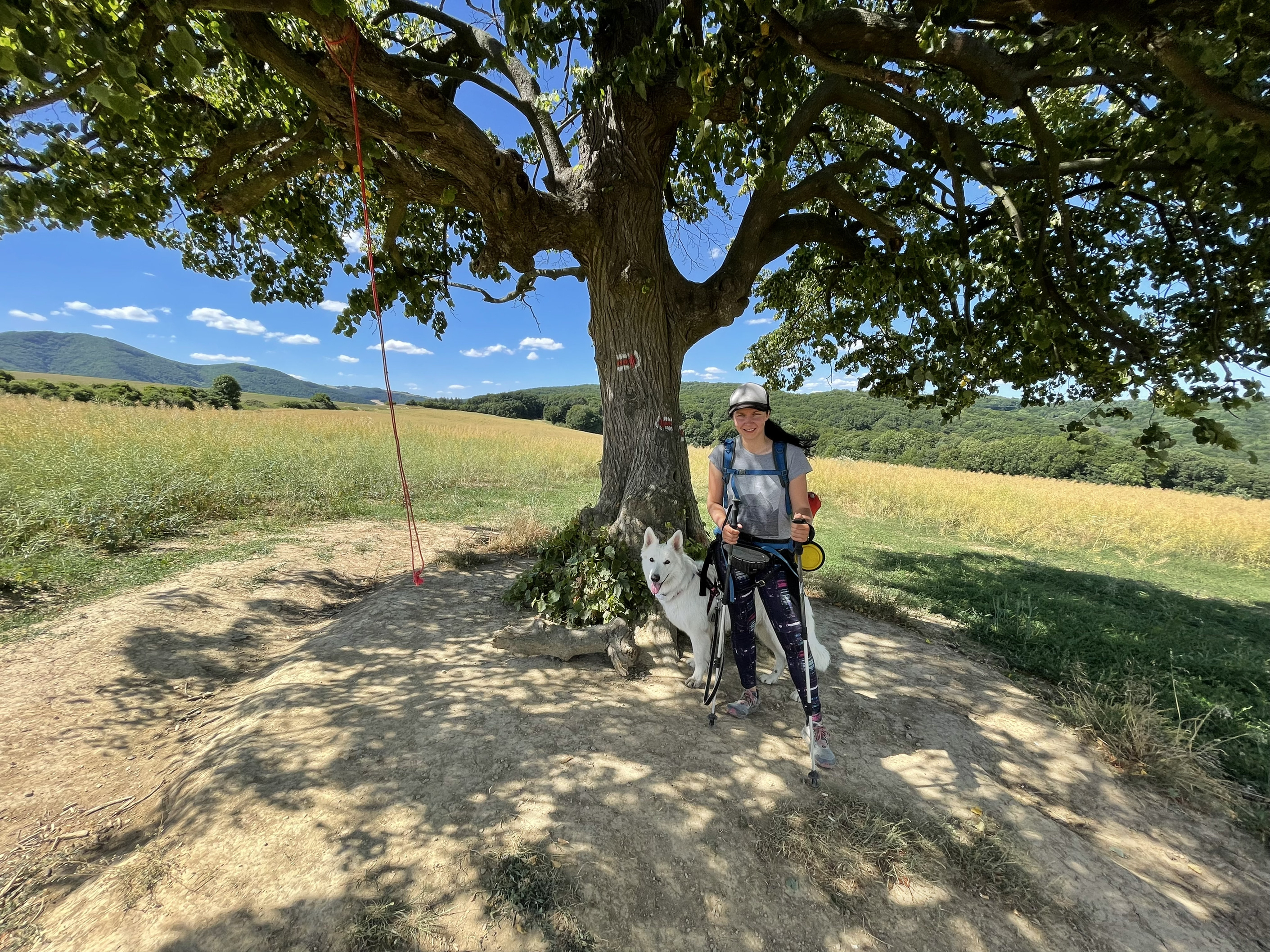 Tip of the day
Maybe it's a good idea to call to a cottage you want to visit on a trail and ask about opening days. At least one day upfront.
"Lot of the time we don't have food, but we are never hungry. Lot of the time we don't have energy, but we always find a way to walk. Is it luck or our determination to get to the finish line? "
The Czech part of the SNP route is the only part where you walk the flat route most of the day. Even the upwards hike to Velká Javorina spreads through several kilometers so the angle of the ascend is low and comfortable for your feet. The first ten kilometers of our hike were mostly uneventful. After that we decided to eat breakfast at the gazebo we came across, where we met three other boys that were also on SNP journey but in the opposite direction. They told us that there is not much water next 20 kilometers and gave us a bottle. ❤️
The goal of the day was to reach the hotel at Velká Javorina as soon as possible, as this was the only food stop on the route and after breakfast we had only several protein bars left. It was still 17 kilometers away, but we started early and we planned to reach it before 4 P.M. But then, we met Peter and Peter told us that the hotel was closed that day due to sanitation. What luck.
Okay, another improvization. It is not easy to walk when you know that the next food stop is 17 kilometers away. But imagine that during your walk, that stop dissapears. You still have to go there, but once you reach it you have another 20 kilometers to the closest civilization. That was our reality. So we walked but the motivation was hitting us hard. At 1 P.M. we were still 10 kilometers away, we drank all of our water, ate all the protein bars and the weather was hot again. We found seats in the shadows and fell on the ground.
We were trying to figure out how to find some food. We tried to search for delivery services in nearby villages. No luck there. We called my mom, asking if she would be willing to bring us our clean clothes one day early to Velká Javorina instead of Myjava, with a food stop in the supermarket. No luck there. Suddenly an elder man that we met several minutes ago on the route came to our camp in a car. He asked us if we knew where to find water, that he could take us there. We were shy and uncertain to go, but when he came the third time, and told us that he was afraid something would happen to us, we agreed to go. He told us that he could take us to a supermarket in the village and bring us back, but we agreed only Nika would go. It would be too complicated to take all the baggage and the dog. She arrived with one full bag of food and water. A normal shopping day. 🍉🧅🥒🥖🥓🥚🍰
After a feast we were again boosted in motivation and we experienced a nice and calm afternoon hike to Velká Javorina. It took us some time to find a nice sleeping place. Actually we did not find a sleeping place. We only found a gazebo that had broad enough benches we could use for a sleep. It didn't help that we met a local photographer that told us that animals, more specifically wolves were spotted in the area. On the other hand, he assured us that they wouldn't be interested in us. Good night. 🦉