SLOVAKIAN WILDERNESS
Episode 3
"Every day I worry about four things. Where do we sleep, what do we eat, where do we find water and what is the weather. These four problems keep my head busy all day. When these basic needs are taken care of, I have room in my head just to manage the pain of my body and motivation to make the next step. Slowly, I forget about the life that awaits me back home. This journey helps a person to clear his head of everything."
In Cermel, we got our fresh supplies. Washed clothes, food, toilet paper and water. The clothes were still wet so we needed to dry them out in the parking lot. A young boy stopped by and asked us about what kind of bazaar do we have there. We laughed and told him about our journey. Embarrassed, he left into his day.
Finally, when we packed up and started the hike to Jahodna, we found out that Aponi started to limp. Not sure what that means for our trip we called our friends Baska and Jurko who fortunately had a free day. They took her in the car to Jahodna so she could rest for a few hours until we figured out what to do next. Upcoming few hours without Aponi were hard and sensitive. We analysed all the symptoms and suspected that she caught grass awn in her leg.
Once we arrived at Jahodna Aponi was still limping. We started operation "awn in the paw" that took one hour and exhausting tryouts with tweezers. Successfully, awns were out but it had been decided, Aponi needed to stay in Kosice for a few days until the paw is fully healed. Sad and with heavy heart we left her with Nika's family and continued to Volovské Vrchy without her 🥺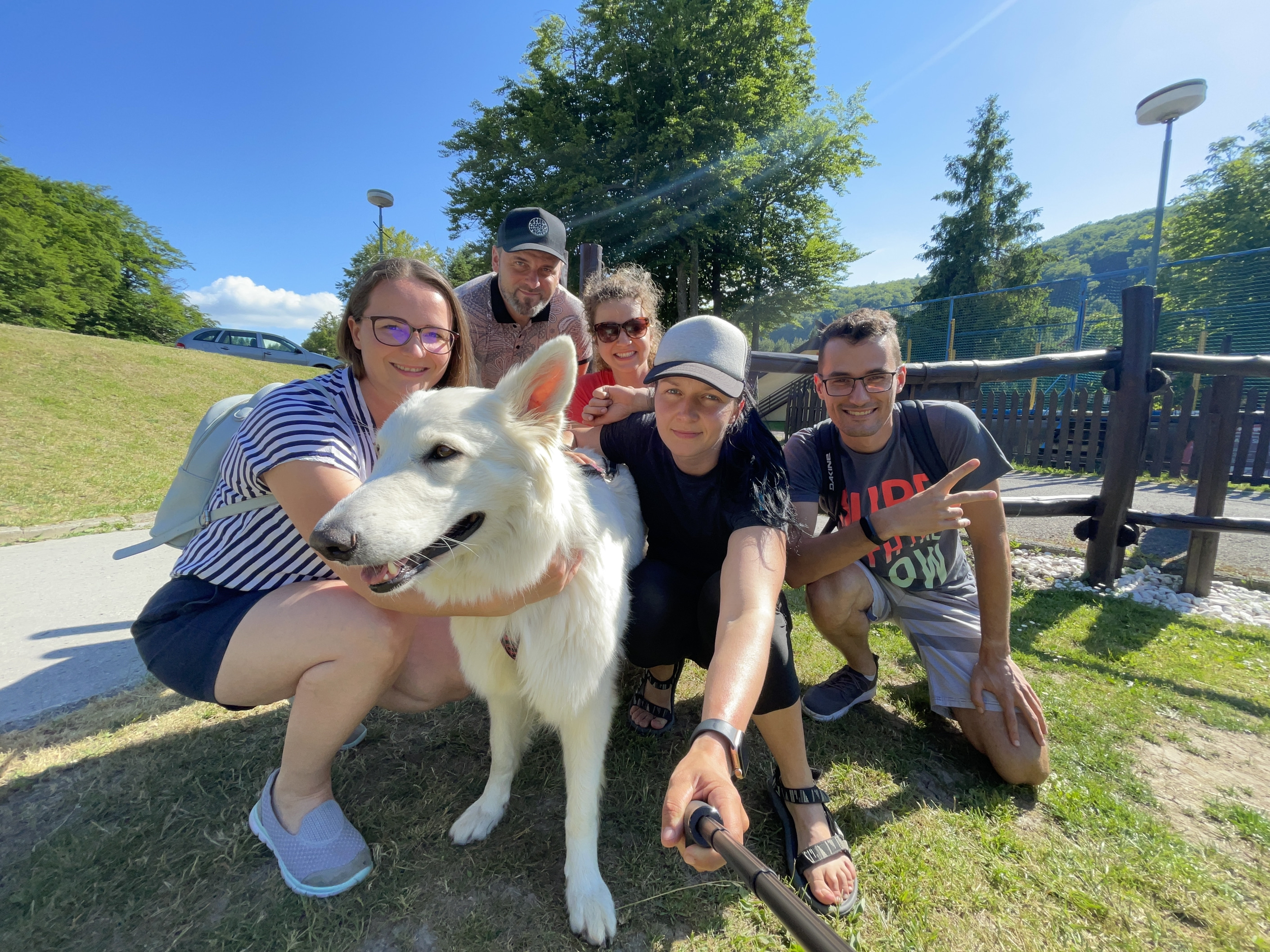 Tip of the day
Don't plan a hike up the hill during the hottest part of the day. It will take you three times longer. It will take away most of your energy.
"We are waking up at Golgotka. I haven't been able to sleep all night. The new environment of the 'Volovské vrchy' subconsciously scared me. Everyone is talking about bears this season. I try to ignore it but the subconscious does not. I woke up to each rustle. I think the amount of my sleep could fit in an hour. It is interesting that I still manage to walk more than 25 kilometers during the day with heavy luggage. It never ceases to fascinate me what the body can do when it has to."
In the morning, we met Mario and Lukas on the way to cottage Erika. Every morning, Mario writes his day into a 2-kilogram chronicle that he takes with him. 🤔 We bumped into an employee of the cottage that worked nearby and he asked us "Do you know what bear shit looks like?". Nika answered that it´s black. "Maybe" he responded. "But you know it thanks to the bells that are inside." We laughed and moved with our ringing bells to the forest.
Volovské vrchy are a pearl of Slovakia nature. It's a real wilderness. Even if you come across fallen trees and felled forests along the route, it is compensated by the true smell of nature, forest, wood, the feeling of total isolation and solitude. You won't meet anyone in the woods. Only a few SNP hikers that wander with you along the route.
The climb to Kloptan mountain was clearly the hardest part of the day. We were hiking there exactly at noon, the temperature felt like 40 degrees. We were glad that we left Aponi at home for a few days. She wouldn't be able to cope, or we wouldn't move anywhere. On Kloptan, there is an amazing sightseeing tower. It's a bit shaky, but for the courageous ones there is a rewarding view of the surrounding nature.
It was so hot that we decided to finish the day close to Štós spa resort. Halfway from Kloptan, we fell down on the road in the middle of nowhere, because we didn't have any strength left. We used the break for a lunch and slept for an hour when Mario and Lukas caught up with us. They told us that in the spa resort there is a restaurant and Kofola. Our exhaustion was transformed into a sudden boost of energy. The vision of a cooked meal was a strong motivation.
In the evening, after delicious dinner, we walked another hour to the place where Lubos was waiting for us. It was his birthday and we prepared a little surprise for him. In the end, me and Nika wanted to wash ourselves in the spring, but the night fell, and almost everything scared us to death on the way there. Screaming and laughing, we returned to the boys dirty and fell asleep with the feeling of protection. 😴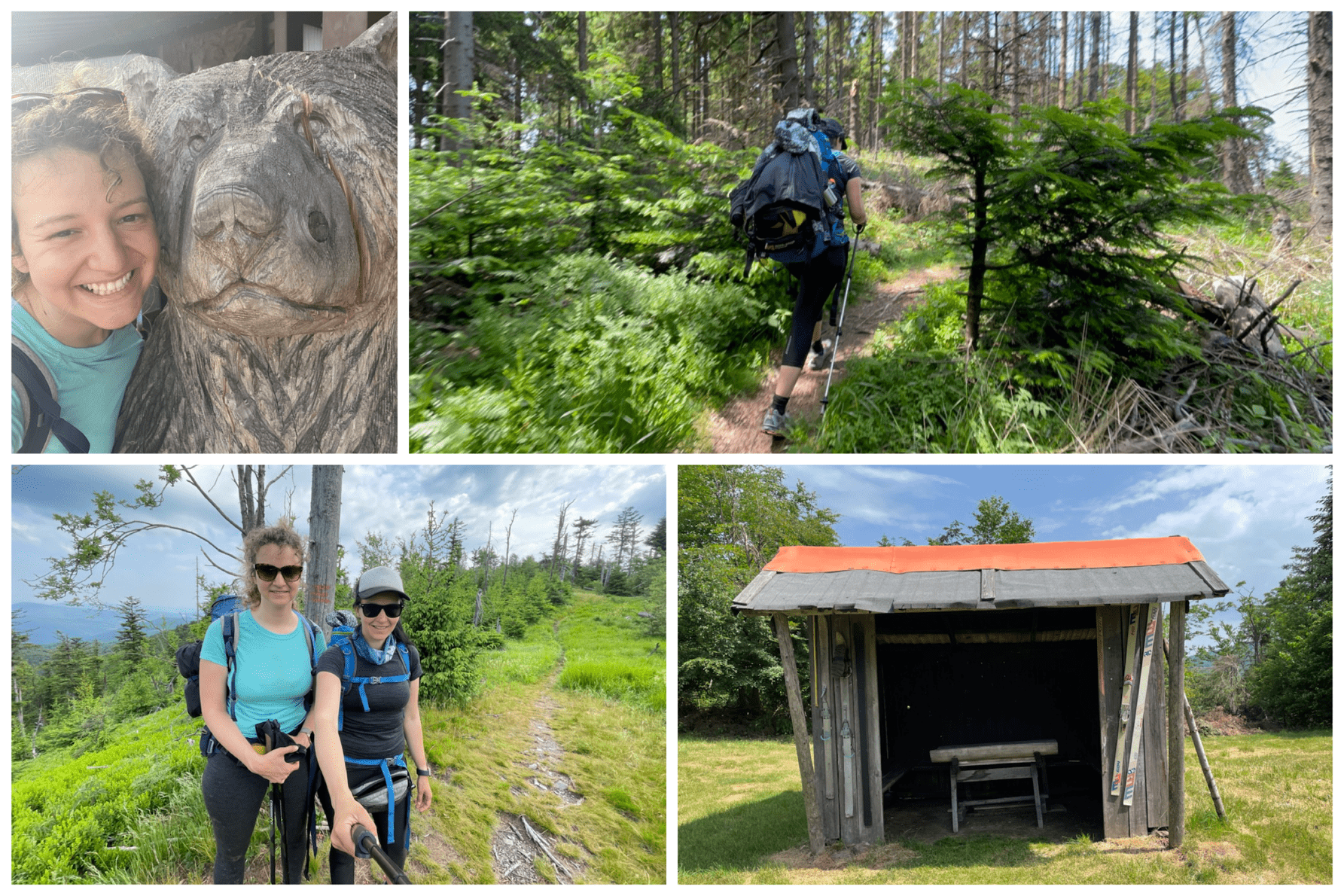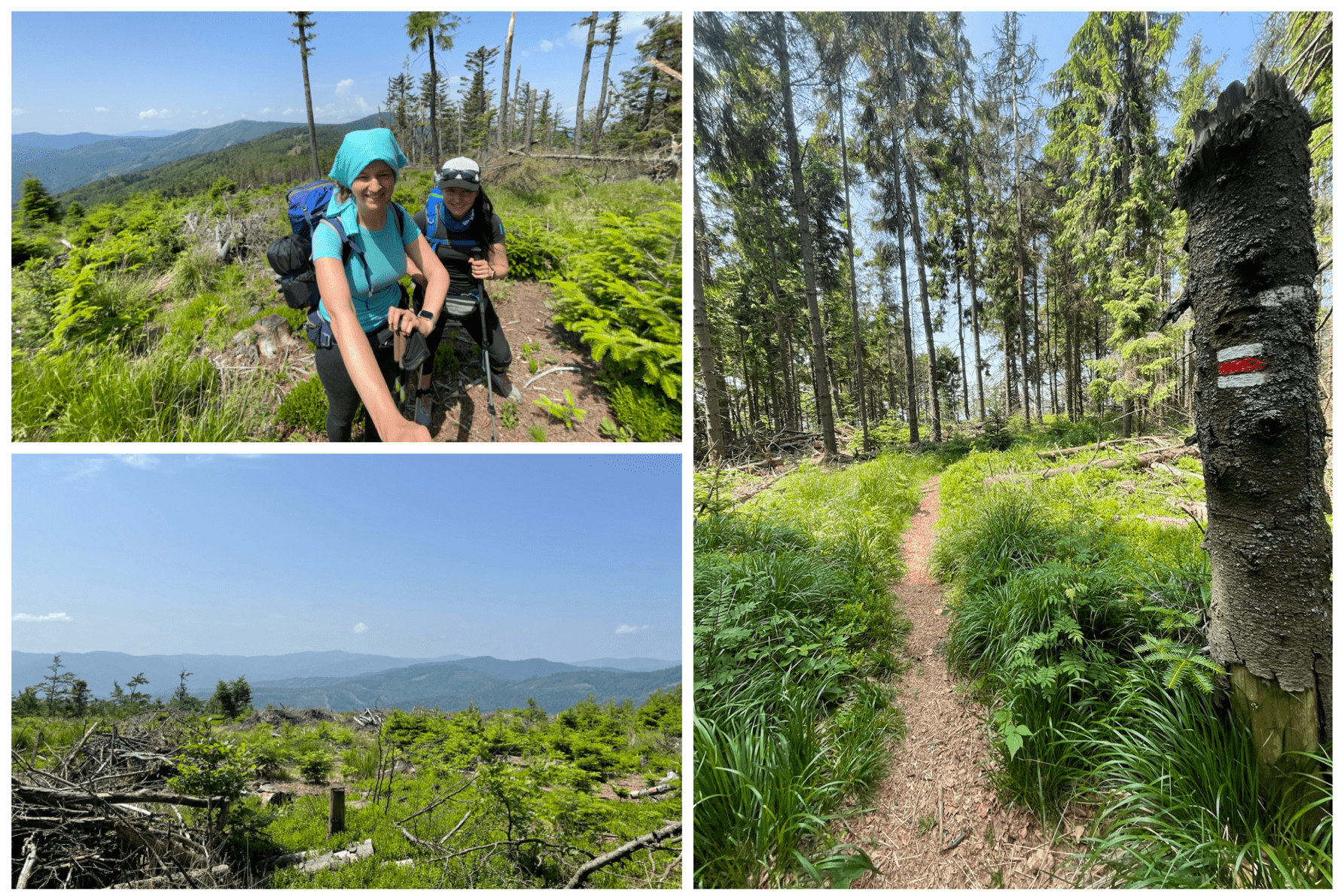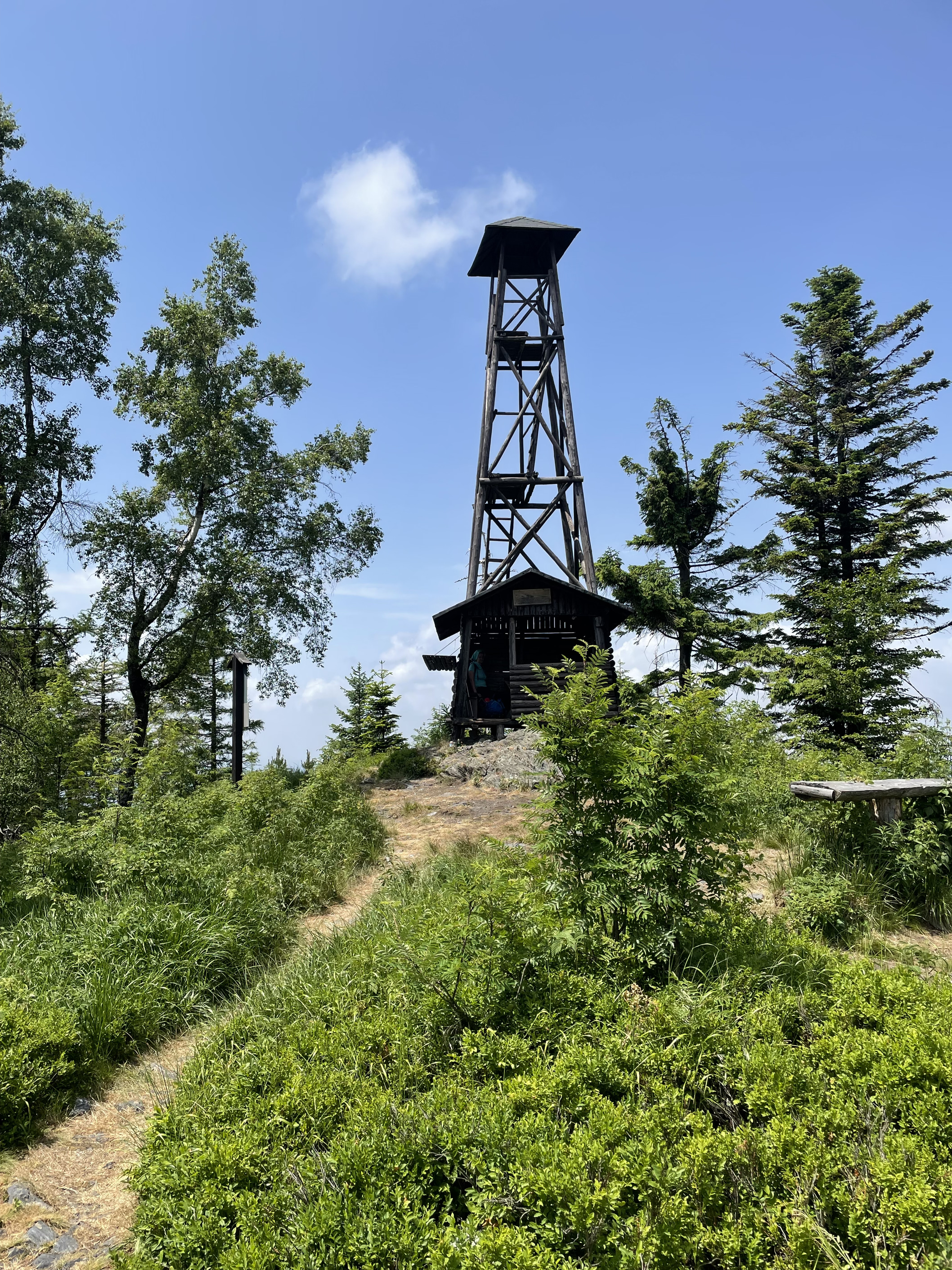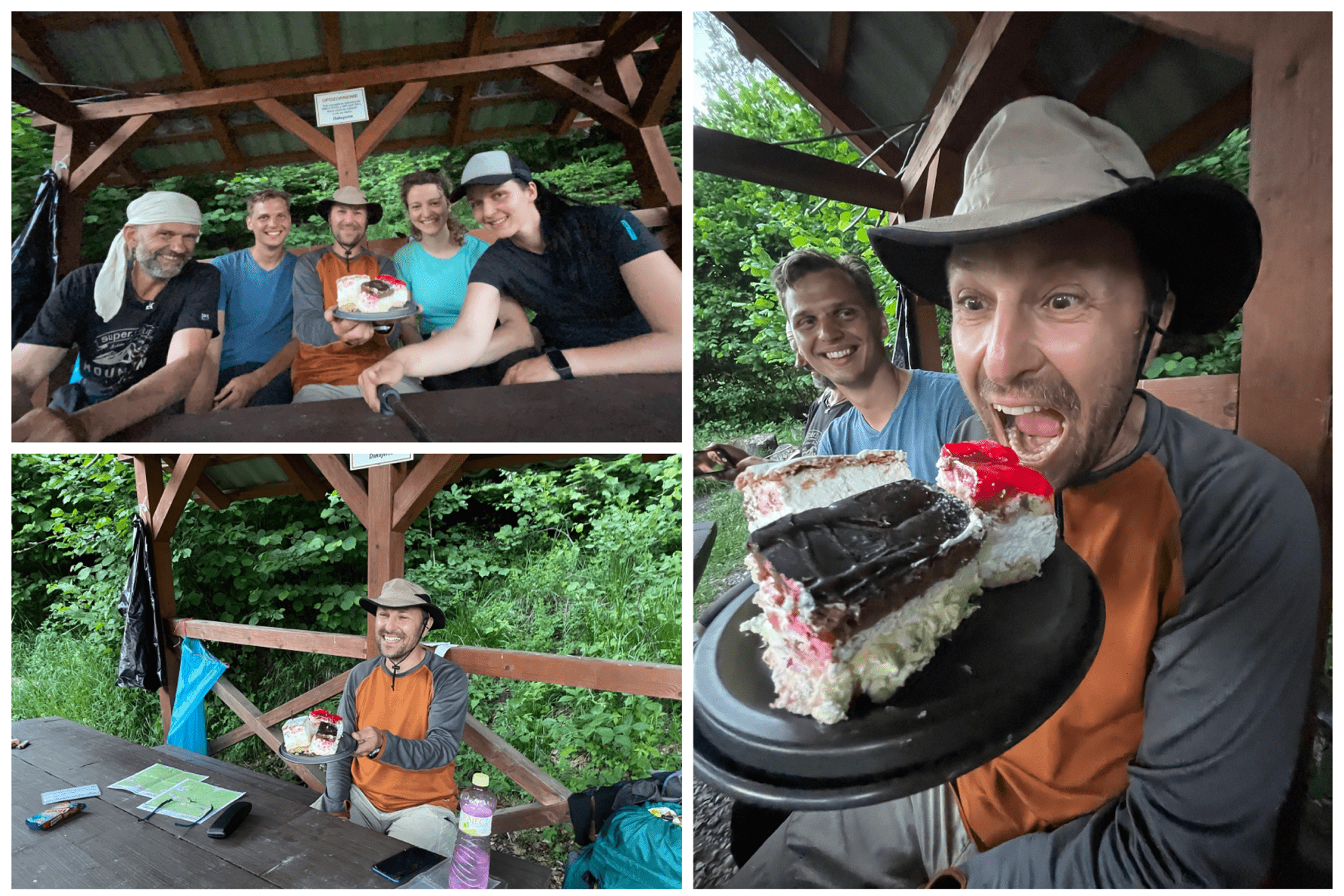 Tip of the day
Use the post office to send food or baggage to several points on your route. That way, you will lighten your baggage for big part of your trip and your resources will wait there for you several weeks.
"Water is the most important resource you need to take care of during such a demanding trip. One time I underestimated the power of the water, because I wanted to save my back from the heavy baggage. It was not worth it. On this trip I learned how powerful water is. When I'm on the verge of the exhaustion, I drink a few gulps and the energy level raises for at least 10 minutes. If you have enough water, you can climb the whole mountain with ease."
Today we had to climb over 13 peaks. In the morning when we woke up we didn't know about it yet. The hardest climb to Pipitka rewarded us with a beautiful hut and a cold spring where we gained strength during lunch break. Each peak offered a new challenge. When it got dark, we scared the bears with the sound of clubs, bells and singing. In the evening, we reached the Volovec rock from where we could see the whole day journey im the distance. We saw the ridge we crossed, the lights of Rožnava in the distance, and the village where my grandmother lives. I'll called her and greeted her at least over the phone. Sunset was the best reward for the whole day.
The next day we were looking forward to food from Nika's grandmother. Our goal was to get to 'Dobšinský kopec' where Nika's family was supposed to meet us. Driven by the motivation for comfort, we conquered the last peaks of Volovské vrchy. But the journey was endless. Some good man marked the boards with hike times that were totally unrealistic. It took us twice as much for 3 hours long hike. We thought we would be home before the noom. Unfortunately, just when the strongest sun hit the ground, we were on the bare hills, and there were no trees around that could hide us in their shadows. The only thing that saved us from the heat was the water and plentiful springs along the way. Today we drank about 6 liters. The best spring along the way was near the lodge Galová. It was made as a natural shower, the water squeezed out from a two-meter height tube. When I saw it, in a moment I threw away my clothes and I was running under the cold water. The hot weather was immediately more bearable. In the end of the hike I told Nika, that we managed to walk about 28 kilometers in today's weather.🥵🏅
A 5-star hotel from Danka and Juraj awaited us in Dobšina. Shower, normal food, comfortable bed and cream cake. We felt like staying there forever. In the morning Jurko and Baska brought us Aponi. Her leg was healed and her joy of seeing us there was enourmous. However, she quickly realized that she was going back on a tour with us and we suspected she tried to return into the car 😅.
We got rid of our luggage before the Low Tatras and send it to Donovaly's post office. We gave away everything without which we could live, including the tent. We bought food for 4 days, which returned part of the weight back to us. In the evening, after day long rest we had 20km of walk to Telgart left. Part of the way we were accompanied by Juraj. For the first time our backpacks were lightweight since we left the food in Dobšina. Juraj offered to take it with him on the climb to Kraľova Hoľa where he and Danka would accompany us tomorrow. In the evening, storm was circling around Telgárt and we hoped we won't have to stay in there for another week.